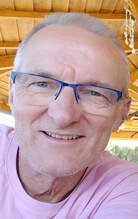 Alan Cutting
I continue a) to pray for peace in Ukraine, and b) to coordinate the efforts of the Ipswich churches as they reach out to our local Ukrainian community.  This is on behalf of Together for Ipswich. 
I aim to keep this page updated with the various events and opportunities that are available to you.  Message me on 07834 693144 for more information and to book places for tours and event tickets.
Best wishes! 
Alan
Я продовжую а) молитися за мир в Україні і б) координувати зусилля церков Іпсвіча, коли вони звертаються до нашої місцевої української громади. Це від імені «Разом за Іпсвіч». 
​Я прагну постійно оновлювати цю сторінку різними подіями та можливостями, доступними для вас.  Пишіть мені на номер 07834 693144, щоб отримати додаткову інформацію та забронювати місця для екскурсій і квитків на події.
Найкращі побажання! 
​Алан